Home Page
Thanet Astronomy Group Celebrates One Year at West Bay Cafe
Members please check your email.
Back in 2013 while enjoying a pleasant afternoon meal at the West Bay Cafe. We were chatting to the owner about astronomy and that we were looking for a new venue. Alan very kindly suggested that we could use the cafe as a venue. We, of course, accepted this offer immediately. We were very lucky to have such an offer. There are not many astronomy groups that have the facilities we have at the West Bay Cafe.
Thanet Astronomy Group's first presentation at West Bay Cafe was on 21st September 2013. It was a very sociable event with a talk and slides on the subject of Jupiter and its Moons, followed by a roast evening meal. The Event was a huge success and marked the start of Thanet Astronomy Group at West Bay Cafe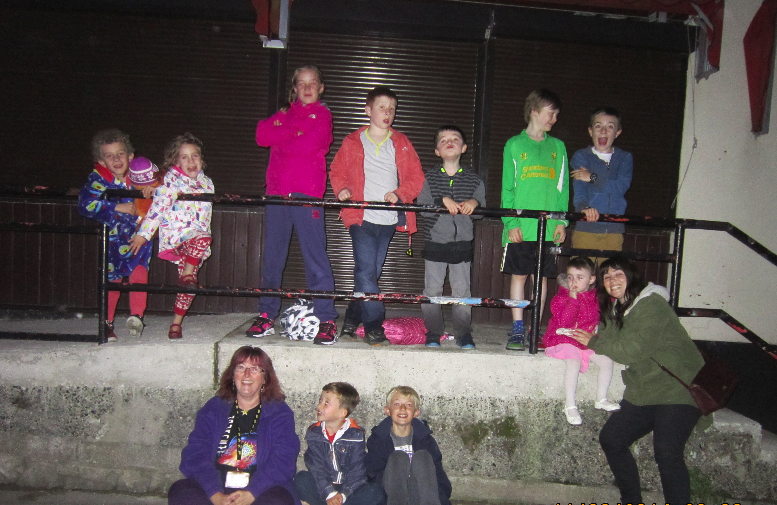 Some of the adults at the Perseid Meteor Viewing Evening and Some of the JAC and Gill club
Since then we have run many Presentations, Courses, Star viewing evenings, an Astronomy Quiz and weekly public meetings designed to help people with an interest in astronomy overcome the first steps in this amazing hobby.
The members will be Celebrating One Year at West Bay Cafe at the September Members Meeting with a buffet and social evening followed, of course, by plenty of Star Gazing if the sky is clear!
-----------------------------------------------------
30th-31st August 2014 - Viewing the Summer Triangle and Cygnus the Swan
Pick up a copy of the Thanet Gazette Friday 29th August, for full instructions on how to find The Summer Triangle and the Constellation Cygnus the Swan in the night sky.
See the Gazette Column page for more information.
-----------------------------------------------------
Members:
To become a member of the Thanet Astronomy Group See the Members page.
All the details you need are there including a download link for a copy of our constitution and the membership application form.
-----------------------------------------------------
JAC & GILL Club.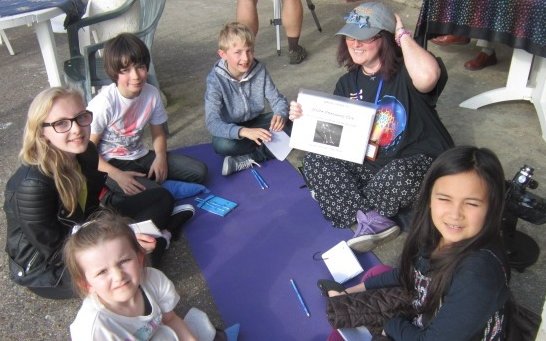 JAC & GILL Club First Meeting West Bay Cafe Sat 11 04 2014.
Following the runaway success of the main Thanet Astronomy Group, we now have many families with children that are also very interested in astronomy.
Therefore, we have set up the JAC & Gill club for our younger (5 to 17 years) enthusiasts.
The JAC & Gill Club meet every Saturday 3:00pm to 4:00pm at the West Bay Cafe during the Free adults meeting.
For more information see the JAC & Gill Club Page
-----------------------------------------------------
Your Comments:
See the Your Comments page
Email your comments to us, the email address in on the contacts page.
We have added a page to the site so you can put short comments about what's happening at Thanet Astronomy Group. To help give people a better idea of what we do. If you have a comment you would like to add then let us know.
Star Comment
Supporting the Brownies with their Stargazing Badge
11 July 2014
Awesome...Thank you so much! Looking forward to putting it all into practice with the Brownies!
Name : Brown Owl ...8th Ramsgate East Brownies ...
-----------------------------------------------------
Free Public Meetings Every Saturday
Thanet Astronomy Group holds FREE daytime public meetings to make astronomy more available to everyone in plain English.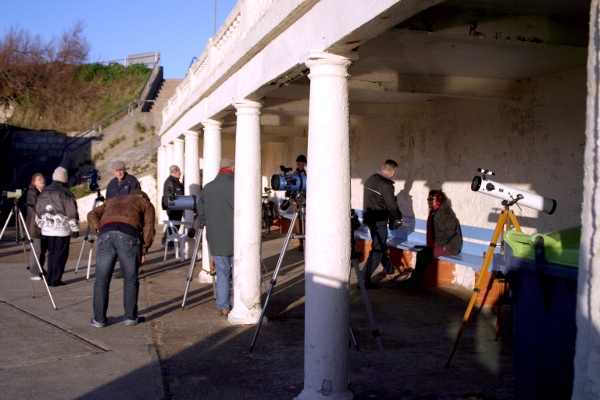 Meeting at the West Bay Cafe - Sat 11 01 2014.
We are an astronomy group that is intended for people at all levels of astronomy.
We especially welcome people new to the subject. All you need is an interest in the stars above. If you want to learn about astronomy then this is for you.
-----------------------------------------------------
Library Page:
See the Library page
We are trying to set up a small library of Astronomy books. If you would like to help with this project or have any Astronomy books you would like to donate please contact us.
-----------------------------------------------------
Thanet Astronomy Group Presentations
Click here to see details of our list of available presentations about astronomy.
We have presentations on the History of Astronomy, Jupiter and its Moons, The Planets, The Moon, and Asteroide 2012 DA14.
Whats On!
New Publication
The Weekend Planner September Issue Covering our area
See page 11 Club Profile of Thanet Astronomy Group
Click The Weekend Planner to view.
See inside cover to subscribe
FREE Saturday Meetings
July 5th, 12th, 19th, 26th
Time : 1 - 4pm
Location
At the West Bay Cafe, Sea Road, Westgate-on-Sea CT8 8QZ,
See meetings page
August 2nd, 9th, 16th, 23rd, 30th
Time : 1 - 4pm
Location
At the West Bay Cafe, Sea Road, Westgate-on-Sea CT8 8QZ,
See the meetings page for details
Members Club Meeting.
Dates and Times
04/06/2014 at 8pm
02/07/2014 at 9pm
06/08/2014 at 9pm
03/09/2014 at 8pm
01/10/2014 at 7.30pm
05/11/2014 at 7.30pm
03/12/2014 at 7.30pm
07/01/2015 at 7.30pm
04/02/2015 at 7.30pm
04/03/2015 at 7.30pm
01/04/2015 at 7.30pm
06/05/2015 at 7.30pm
Location
West Bay Cafe, Sea Road, Westgate-on-Sea, Kent. CT8 8QZ.