Home Page
3 New Pages added to the site
Donations Page
The Donations Page :- We have added a page to record the very kind donations that people make to our group and say Thank You to them.
You can click here -> Donations or on Donations in the links the left.
Two News Letter Pages
Two sub pages have been added to the Members page. These pages will be the home for the TAG and FAS Members News Letters.
To access these pages click on Members on the left. Then the two new pages will appear below it.
You will be able to read, download and print the news letters.
-----------------------------------------------------
The latest donation was.
Donation by : Sally & Rob
"My Dad was: Patrick James Madle, 1926 - 2003. He was an electrical engineer by profession and a keen amateur astronomer."
"I hope that you can find a use for Dad's telescope - as we said earlier, he'd have been really pleased to know it was going to such a good 'home', and that he'd get a mention on your website!"
"Thank you for making the whole process so easy, and the very best of luck with the club."
Date : 17 Sep 2014
Donation : Carl Zeiss Telementor 2 63/840 Refractor See youtube video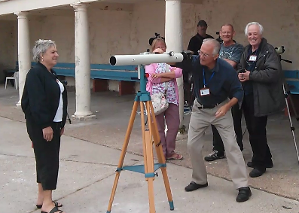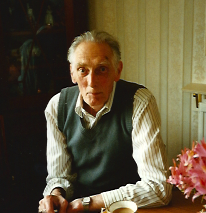 Carl Zeiss Telementor 2 63/840 Refractor - Patric James Madle
Thanet Astronomy Group would like to thank Sally & Rob for the donation of this telescope. It will be put to very good use.
-----------------------------------------------------
Members:
To become a member of the Thanet Astronomy Group See the Members page.
All the details you need are there including a download link for a copy of our constitution and the membership application form.
-----------------------------------------------------
JAC & GILL Club.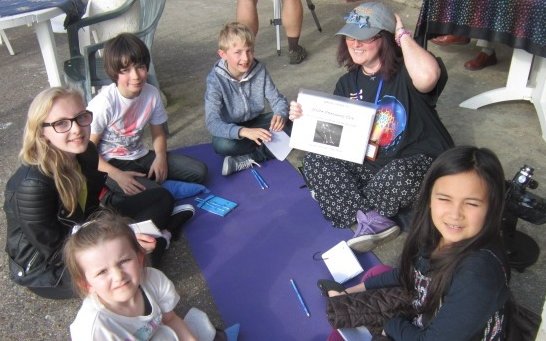 JAC & GILL Club First Meeting West Bay Cafe Sat 11 04 2014.
Following the runaway success of the main Thanet Astronomy Group, we now have many families with children that are also very interested in astronomy.
Therefore, we have set up the JAC & Gill club for our younger (5 to 17 years) enthusiasts.
The JAC & Gill Club meet every Saturday 3:00pm to 4:00pm at the West Bay Cafe during the Free adults meeting.
For more information see the JAC & Gill Club Page
-----------------------------------------------------
Your Comments:
See the Your Comments page
Email your comments to us, the email address in on the contacts page.
We have added a page to the site so you can put short comments about what's happening at Thanet Astronomy Group. To help give people a better idea of what we do. If you have a comment you would like to add then let us know.
Star Comment
Supporting the Brownies with their Stargazing Badge
11 July 2014
Awesome...Thank you so much! Looking forward to putting it all into practice with the Brownies!
Name : Brown Owl ...8th Ramsgate East Brownies ...
-----------------------------------------------------
Free Public Meetings Every Saturday
Thanet Astronomy Group holds FREE daytime public meetings to make astronomy more available to everyone in plain English.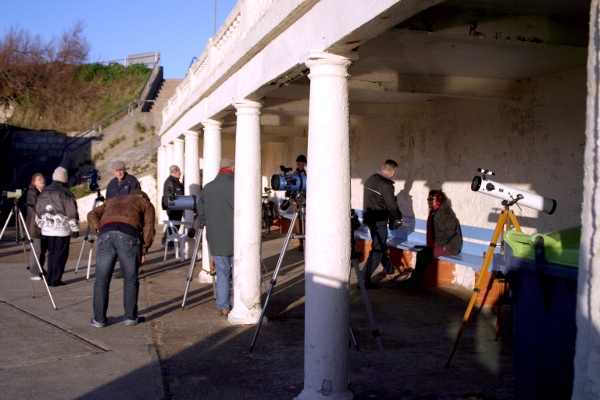 Meeting at the West Bay Cafe - Sat 11 01 2014.
We are an astronomy group that is intended for people at all levels of astronomy.
We especially welcome people new to the subject. All you need is an interest in the stars above. If you want to learn about astronomy then this is for you.
-----------------------------------------------------
Library Page:
See the Library page
We are trying to set up a small library of Astronomy books. If you would like to help with this project or have any Astronomy books you would like to donate please contact us.
-----------------------------------------------------
Thanet Astronomy Group Presentations
Click here to see details of our list of available presentations about astronomy.
We have presentations on the History of Astronomy, Jupiter and its Moons, The Planets, The Moon, and Asteroide 2012 DA14.
Whats On!
New Publication
The Weekend Planner September Issue Covering our area
See page 11 Club Profile of Thanet Astronomy Group
Click The Weekend Planner to view.
See inside cover to subscribe
FREE Saturday Meetings
September 6th, 13th, 20th, 27th.
October 4th, 11th, 18th, 25th.
November 1st, 8th, 15th, 22nd, 29th.
December 6th, 13th, 20th, 27th.
Time : 1 - 4pm
Location
At the West Bay Cafe, Sea Road, Westgate-on-Sea CT8 8QZ,
See the meetings page for details
Members Club Meeting.
Dates and Times
04/06/14 at 8pm
02/07/14 at 9pm
06/08/14 at 9pm
03/09/14 at 8pm
01/10/14 at 7.30pm
05/11/14 at 7.30pm
03/12/14 at 7.30pm
07/01/15 at 7.30pm
04/02/15 at 7.30pm
04/03/15 at 7.30pm
01/04/15 at 7.30pm
06/05/15 at 7.30pm
Location
West Bay Cafe, Sea Road, Westgate-on-Sea, Kent. CT8 8QZ.